In the early morning of February 10, 1992, Robin Lee Row's two-story duplex in Boise, Idaho, was engulfed in flames.  Robin wasn't home that morning.  She had spent the night at a friend's house after a fight with her husband, Randy Row.  But at 3am, Robin had a premonition of the fire.  She woke her friend at 5:30 am and they drove together to the duplex to check on Robin's children.
Joshua, 10-years-old, Tabitha, 8-years-old, and their step-father Randy all died in the fire.  Initially, there was an outpouring of compassion for Robin, a grieving woman who had lost her entire family overnight.  But Robin was not who she appeared to be.  Her behavior after the tragedy along with fire-investigators' suspicions about the fire led the police to look into Robin's past.  After a bit of digging, they would discover that Robin had lived a lifetime of deceit, fraud, and, quite possibly, murder.
Join us at the quiet end for Burning Down the House.  The deaths of her family members in the 1992 fire were not the only suspicious deaths found in Robin's past. Information began to trickle in from acquaintances and co-workers about her web of lies and her cold-heartedness.  Her closest friend was her most ardent supporter, until she, too, discovered the true Robin.
Record your opinions and/or suggestions in a voicemail for a future show
Join our True Crime Brewery Fan Discussions Group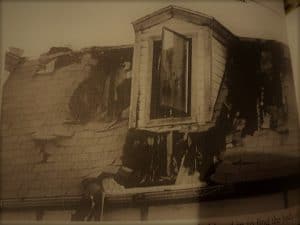 The Row duplex fire
Sources
20 years since Robin Row killed her husband, 2 kids  KTVB.com, Jamie Grey, Feb. 10 2012
Deadly Confidante by Nancy Whitmore Poore
Idaho death row inmate Robin Row to have court-appointed mental health exam. KBOI news. Retrieved 5-21-2021
State v. Row, Supreme Court of Idaho, March 18, 1998