Police were surprised by Barbara Stager's lack of emotion when her 40-year-old second husband, Russ Stager, died from an accidental gunshot wound to his head.  Within days, Barbara called her insurance company to cash in on Russ's life insurance policy. She would collect her money and life would go on for her and her children. That's what she believed.
To the untrained eye, Barbara looked like an ill-fated woman, widowed twice in just 10 years. But she had her critics; people who knew that her first husband had also died from an "accidental" gunshot wound.  And, in both shootings, Barbara had been in the bed beside her husband.  In fact, she had been the one with the gun in her hand.
Join us at the quiet end for a convoluted story of treachery and deception.  Barbara Stager was a spendthrift, a liar, a sex addict, a thief, and a killer.  She spent her adult life moving from house to house, job to job, and man to man.  It wasn't until after her second husband's death that a criminal investigation was initiated, exposing Barbara as a black widow who would do anything For the Love of Money.
Subscribe to TCB Premium for ad-free & bonus shows
Write to us with your opinions, comments, & suggestions
Join our True Crime Brewery Fan Discussions Group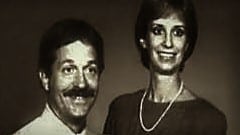 Russ & Barbara Stager
Sources
Before He Wakes by Jerry Bledsoe
Greensboro News & Record articles by Libby Lewis and Jerry Bledsoe
Broken Promises Forensic Files Episode Season 5, Episode 14