Kathleen Folbigg has lived a life filled with tragedy.  As a child, her father murdered her mother, leaving her to grow up in foster care.  But Kathleen seemed to have overcome her difficult past when she married her husband Craig and they set out to start a family.
In 1989, Kathleen's infant son Caleb died. This death was followed by the deaths of three more of her children in 1991, 1993, and 1999.  It wasn't until the death of her daughter Laura in 1999 when family, friends, and the authorities became suspicious.  Kathleen denied killing her babies, but her behavior and her journals may have told a different story.
Join us at the quiet end for The Hand that Rocks the Cradle: The Kathleen Folbigg Story.  When a mother loses a child, sympathy is abundant.  But, when each of Kathleen's children died in her care, one after another, dark questions about Kathleen and the complexities of motherhood came up.  The accepted wisdom at the time was that one cot death is a tragedy, two are suspicious, and three is murder until proven otherwise.  This left Kathleen and her supporters in the impossible position of proving a negative.  Today we're going to go into the medical and genetic explanations investigated to explain the sudden deaths of the Folbigg babies as well as the psychological and behavioral characteristics pointing to Kathleen as a calculated serial baby killer.
Subscribe as a Tiegrabber & get ad-free & bonus content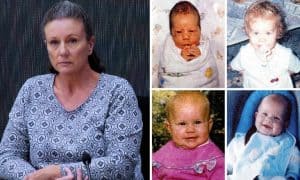 Sources
Articles
Circulatory and cardiovascular Genetics, 2014
Colmodulin: An Introduction, The Canadian Journal of Biochemistry and Cell Biology, 1984
Inquiry Reinforces Guilt by Lucy Cormack, The Sydney Morning Herald, 2019
Kathleen Folbigg: Could Science Free Australian Jailed for Murdering Babies?  BBC news, March 2021
Killing Them Softly by Julie Szego, The age.com, 2003
Unexpected Deaths in Infancy, by D.R. Lawrence 2005 New South Wales Child Death Review Team
Books
When the Bough Breaks by Matthew Benns, 2003
Videos
Guilty of Killing Her Children, or has Kathleen Folbigg been Wrongly Convicted? Australian Story, 2019
Mothers Accused of Killing their Four Babies | 60 Minutes Australia, 2019