Graduate student Annie Le disappeared from her lab at Yale University just five days before her wedding.  When she was first reported missing, investigators theorized that she had cold feet and had likely run off for some time alone.  But Annie's family and friends didn't believe Annie would do that.  She was very much in love with her fiancé and she was excited about the upcoming nuptials.
Join us at the quiet end for The Vanishing Bride-to-Be, the story of Annie Le.  As the days passed by and her wedding day neared, Annie's disappearance seemed more and more likely to be the result of foul play, but a thorough examination of CCTV footage at the laboratory showed that Annie had never left the building.
We'd love to hear from you…record a voicemail!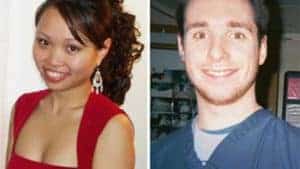 Annie Le                            Ray Clark