In September, 2015, 25-year-old Jack Taylor was found dead in the graveyard of St. Margaret's Church in East London.  Jack was not the first young man to be found dead under unexplained circumstances, all within a few hundred yards of each other. It was initially believed that these deaths resulted from drug overdoses, but Jack's death led the police to find a more sinister cause. A killer had lured these men to their deaths using online dating apps.
Two days before Jack Taylor was found dead, he had arranged to meet with a man he'd been chatting with on the dating app Grindr.  When his family and friends didn't hear from Jack, they reported him missing.  Then the police showed up at his parent's home with the worst news imaginable.
Join us at the quiet end for The Grindr Killer. Four suspicious deaths under very similar circumstances in the same area of London pointed to one killer.  Today we're going back in time to learn about the monster responsible and his methods to lure young, gay men into his deadly web of lies.
Subscribe to get ad-free and bonus episodes while supporting the show!
Submit a comment or suggestion
Record a voicemail for a future feedback segment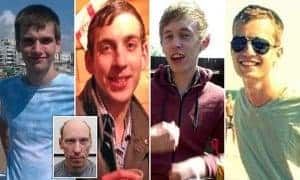 Daniel Whitworth, Stephen Port, Jack Taylor, Anthony Walgate, & Gabriel Kovari