When Jan Roseboro's husband Michael found her unconscious and bleeding in their new swimming pool, there was no reason to suspect him of anything nefarious. Even though his 911 call was unusual, it wasn't proof of a crime.  But then a motive for murder was discovered: Michael's lover, Angela Funk.
When Angela's computer and phone records were examined, thousands of romantic and lustful messages with Michael Roseboro were discovered.  In these messages, he professed his love for her and his desire to marry her.  In fact, he was planning to leave Jan and ask for a divorce on July 22, the day Jan died.
Join us at the quiet end for Lady in the Water, the murder of Jan Roseboro.  Within days of Jan's death, investigators decided that Michael Roseboro had beaten and strangled his wife before tossing her into the pool to drown. All of this happened while their three small children slept inside the home. Michael's family and lover didn't believe that Michael could do such a thing, but Jan's family had no doubts that Michael had killed Jan in order to be with his mistress and keep his wealth.
Read "Love Her to Death" by M. William Phelps
Join our TCB Fan Discussions Group and chat with other TCB listeners!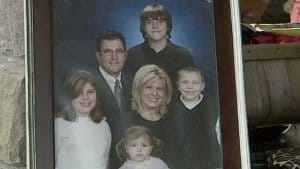 The Roseboro Family
Sources
48 Hours "Lady in the Pool" March 6, 2010
Lancaster Independent Press July 20, 2009
Lancasteronline.com archives
"Love Her to Death" by M. William Phelps