Early in the morning of March 1, 2008, two men entered the Caffey family home in rural Alba, Texas.  Terry Caffey and his wife Penny had been living a quiet, peaceful life in their modest country home with their three children, Erin, Matthew, and Tyler.  A violent break in was the last thing the family could have ever expected.
After family members were attacked by armed assailants, their home was set on fire. Terry was shot five times, but he somehow managed to crawl to his only neighbor, about 400 yards away, leaving a trail of blood in his wake.
Join us at the quiet end for Daddy's Little Girl. A home invasion and mass murder were not something the tiny Texas town of Alba had ever seen before.  When 16-year-old Erin Caffey was found alive, she appeared to be in a state of shock. But right away, investigators wanted to know what Erin knew about the attack.  Her father Terry rejected that idea that Erin could have any knowledge of the crime against her own family members, but he believed her older boyfriend was likely behind the attack.
Record a voicemail for a future show
Join our True Crime Brewery Fan Discussion Group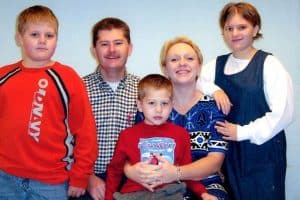 The Caffey Family
Sources
Dallas Morning New Archives
Flesh and Blood, Texas Monthly, by Pamela Colloff June 2009
Love Hurts by Keith Elliot Greenberg
Terror By Night by Terry Caffey with James H. Pence
Texas Department of Criminal Justice Archives 2009